MyKitCheck users maintain 100% compliance
---
Recently two MyKitCheck users, Leeds Teaching Hospitals and Southport and Ormskirk Hospital have shared some of the fantastic results that they have achieved with the assistance of the platform. Both hospitals currently use MyKitCheck on their resuscitation equipment where checks are carried out daily, monthly and post-emergency.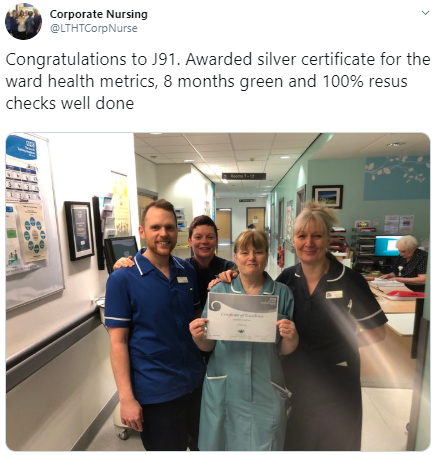 Leeds Teaching Hospitals have gradually been phasing in MyKitCheck across their departments with a full rollout expected to be completed by Spring this year. Their
Corporate Nursing account
shared in January that the team on J91, a gastroenterology ward, received a certificate as they had achieved an incredible 8 months (and counting) of 100% compliance on their resuscitation equipment checks.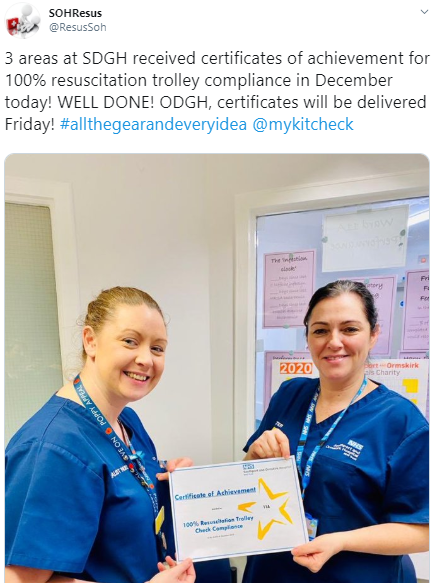 Heading across to Southport and Ormskirk Hospital, they started using MyKitCheck trust-wide in October 2019. Even though they are new to using the platform the changes they have seen have been immense already. The Trust looked to using MyKitCheck following a CQC inspection last summer that identified issues with the checks and equipment stored in their emergency kits. This made it evident that improvements needed to be made. Now only a few months in they are already seeing a huge benefit of taking their emergency equipment checks digital with three areas maintaining 100% compliance. Find out more about Southport and Ormskirk Hospital and MyKitCheck in their
case study
.
MyKitCheck enables managers to proactively monitor the readiness of their kit. The dashboard feature shows the status of checks made that day. This helps makes any arising problems clear so they can be dealt with immediately and keep compliance high. If you would like to see how MyKitCheck can transform your checks book a no-obligation demo.
Stay up to date with MyKitCheck and its users on our Twitter and LinkedIn pages.